Monsters University Party ideas
Don't get scared about planning the perfect event. Just look to our Monsters Inc. party ideas guide for tips and tricks on how to serve up the best decorations, invitations, food, favors, and games. If your child loves Mike, Sully, and the rest of the Monsters University crew, they will love having a monster themed birthday! Shop our
Monsters Inc. Party Supplies
. Browse this guide:
---
What Do I Need For my Monsters Inc. Party?
In addition to basic Monsters Inc. and Monsters University party supplies like plates, cups, napkins, and decorations, you may want to consider purchasing, borrowing or renting the following items for your monster party:
Monsters Inc. toys, action figures, and stuffed animals
Monsters Inc. and University movies
Disney party supplies
Kid-friendly comedy CDs
Doors found at thrift shops
---
Monsters Inc. Party Invitations
If you do not have the time to make your own invitations, consider our
personalized Monsters Inc. invitations
that include your child's name and all the party details. Creative invitations build excitement and set the mood for the party before it even starts! Fit your theme by matching the colors of your invites to the color scheme. If you have the time to make your own invitations, here are a few Monsters Inc. party birthday invitation ideas:
Attach a card-style invitation to one of our Monsters Inc. personalized favors with color matching curling ribbon.
Include a Monsters Inc. sticker or tattoos with your invitation and seal the envelope with a personalized sticker printed with your party details.
Cut out a green circle and paste a smaller white circle on top of it. Color a dot in the center to create a Mike Wazowski invitation. Flip the eyeball over an write your party details on the back. You can make a Sully invite with blue construction paper decorated with purple polka dots.
Ask guests to dress up as their favorite Monsters Inc. character or wear scary monster accessories.
Include creative wording on your invitations such as:You'll have so much fun at Kitty's partyThat you will want to SCREAM!Show us your best scares at her Monsters Inc. party. Don't be scared to show up!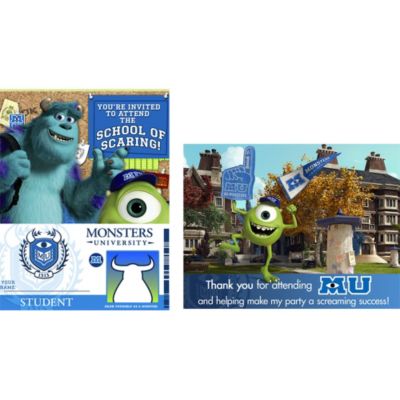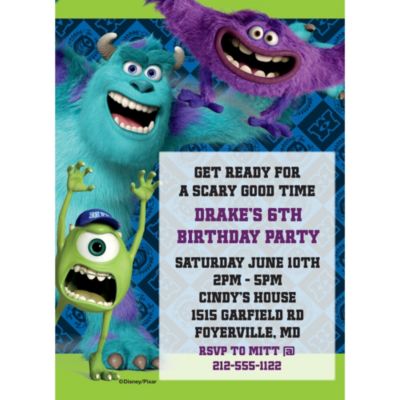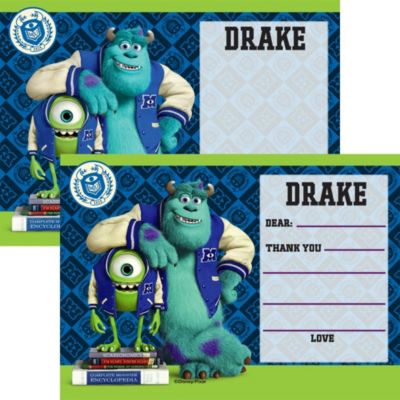 ---
Cut out green eyeball shapes to hang on your walls.
Group bunches of Monsters Inc. balloons together and weigh them down with balloon weights or toys. You might also want to throw in latex balloons in green or blue to complete the look.
Use old tennis ball tubes or chip containers to create scream canisters. Cover the tubes in yello construction paper and decorate with red gauges and other details from the movie. Group them by the party table or use them to weigh down Monsters University balloons.
Find old doors at a thrift show or recycling center. Place them around your party area as decoration or turn one into a bench or table.
Decorate a monster University theme with college gear. Pennant banners, backpacks, and school supplies can become a part of your monster decorations! Cut out Monsters University logos to make It look more like a college campus!
Tape purple polka dots to blue latex balloons to create Sully-inspired decor. Tape a white circle to green balloons for a Mike look.
---
Monsters Inc. Party Food Ideas
It can be fun to prepare and serve party food that fits your theme. For a Monsters Inc. Party, try foods that are blue and green to match Mike and Sully!
Frost cupcakes to look like the main characters of the Monsters Inc. series. Use green frosting and a white center for Mike and blue frosting with purple candies to make Suly theme cupcakes.
Serve snacks with monster names like "Wazowski Wafers", "Sully Sandwiches", and "Boo-berry Smoothies".
We all scream for ice cream! Set up a sundae bar so guests can personalized their "screaming": snack.
Serve healthier snacks that look like monsters. Put googly eyes on Clementine oranges, put a chocolate chip in the center of banana slices to make one-eyed monsters, and use other fruits with blueberries for eyes. Toothpicks with eye decorations can help decorate your food for a freaky look.
Create a green and blue fruit and veggie tray that will match your Monsters Inc. party decorations. Serve foods like green grapes, celery, broccoli, and peppers. Purple fruits like grapes and blueberries also match.
In Monsters Inc., Mike and his girlfriend go out to a sushi restaurant. Serve up simple suhi with foods kids will enjoy. Rice, seaweed, cucumber, and egg rolls are simple to make and have flavors kids are used to. Mix and match ingredients to give your sushi platter some variety. You can also make pb&j rolls to match the sushi idea. Simply spread peanut butter and jelly on one side of crustless bread and roll it up. Slice each roll into pieces for a sushi style.
---
Monsters Inc. Party Favor Ideas
Now that your Monsters Inc. party is over, send your guests home with a smile with Monsters Inc. favors such as:
Send Monsters University favors home in a pencil case or use a "scream canister" made from cardboard tubes to put a twist on normal loot bags.
Glow sticks and glow-in-the-dark stickers
Party candy and personalized lollipops
Hard hats with the Monsters Inc. logo
Check out our Monsters Inc. party supplies page under the "Party Favors" and "More Fun Stuff" tabs for great Monsters Inc. party treats!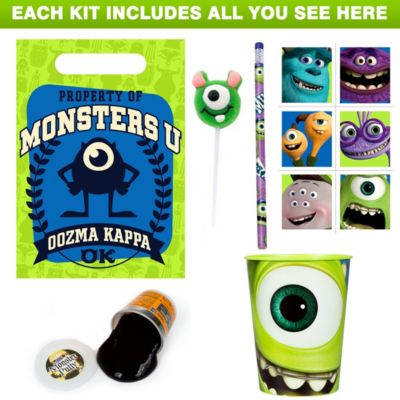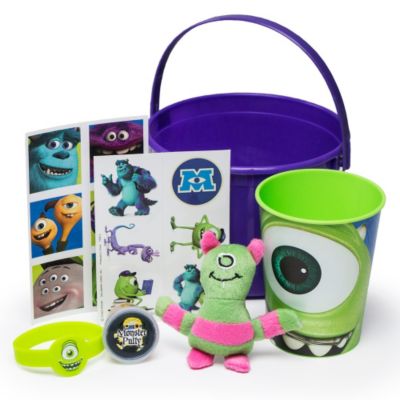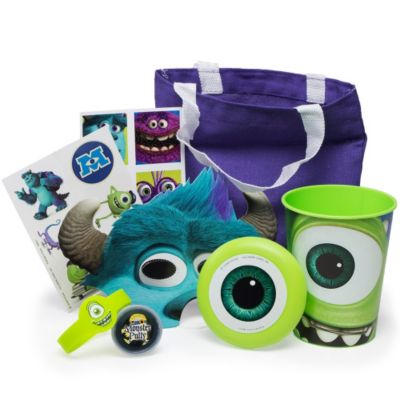 ---
Party Planning Toolbox
Use the links below to quickly find related Monsters Inc. theme party supplies, planning tips, printable checklists, and advice from our party planning experts!!
The Monsters Inc. name and all related characters and elements are the property of Disney. This guide is not affiliated with or endorsed by Disney.
---
Games and Activities
| | |
| --- | --- |
| Color Your Favorite Characters! | Ask your family members to participate variations of this classic party game. |
| Everybody is a winner with these versions of Bingo! | Here are creative ways for your guests to find hidden treasures |
| Make balloon animals or swords! | Who's the fastest at your party? You'll find out! |