Toy Brick Star Wars Party Ideas
A long, long time ago in a galaxy far, far away, a galactic battle between good and evil occurred. Kids and adults alike have grown to love this stellar sci-fi series, and now there is a Toy Bricktoy twist on the classic films. If your child is crazy for these toy block heroes, take a look at our Toy Brick Star Wars party ideas for tableware, decorations, favors, food, and games. Shop our
Star Wars Block Party Supplies
. Browse this guide:
---
Star Wars Block Party Planning and Invitation Ideas
What Do I Need For a Toy Brick Star Wars Party?
May the Force be with you as you select basic
Star Wars Block Party supplies
like tableware and decorations. Spice up your Toy Brickbirthday theme with the following items for a more memorable Star Wars party:
Star Wars Blocks toys and action figures
Robot party supplies
Star Wars Block Party games or Clone Wars episodes
Get your Star Wars and Toy Brickparty guests excited for your event with something special. Try our
Star Wars invitations
or our personalized Star Wars invitations, which can be printed to include your child's name and all of the party details! Make your own DIY Toy Brickinvites to create a personal touch for your event. This can be a fun activity to get you and your child excited for your Toy Brick Star Wars party! Here are some Star Wars invitation ideas for your upcoming celebration:
Attach a card-style invitation to a Darth Vader mask, personalized favor, or Toy Bricktoy for a nice surprise before the party even starts.
Include Toy Brick Star Wars stickers or tattoos with your invitations. Seal the envelopes with a personalized Toy Brick Star Wars sticker printed with your party information or special message.
Create a card-style invitation using the Rebel and Empire symbols. Write your party details on the back of the card. Let your child help with the decorations to get him or her excited for their big day.
Let your guests know if you would like them to dress up like their favorite character from the Toy Brick Star Wars movie. Check out our Star Wars costumes for ideas!
Use creative writing in your Toy Brick Star Wars Invitations. Use the invitation wording below for inspiration:
May the Force be with you as you come to party
With Captain [Joe] and the rest of his army! We'll play some games and have some fun So fly your Millennium Falcon here to party with everyone!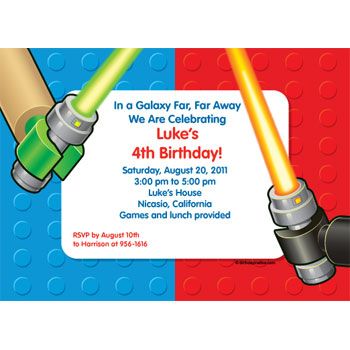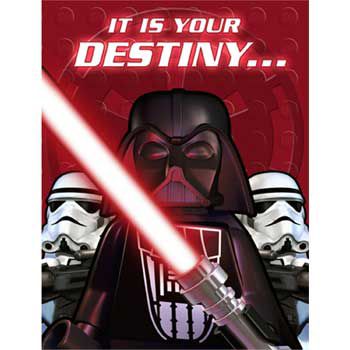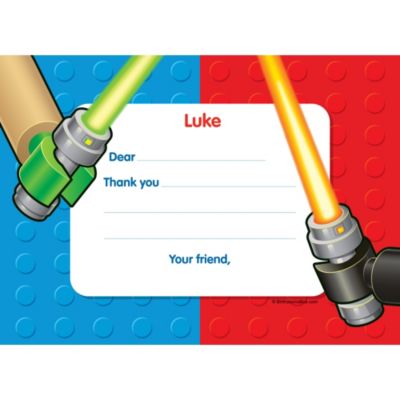 ---
Star Wars Block Party Decoration Ideas
Build up the perfect decorations for your Toy Brick Star Wars party! You can use
Building block theme decorations
to star off, then break into more creative ideas. You'll be sure to find great Toy Brick Star Wars decoration ideas below:
Create a sci-fi cityscape using craft paper. Cut out the shapes of large buildings or flying cars from craft paper and hang it on the walls! Also cut out logo shapes that match the Republic and Rebel sides.
Hang posters or cut-out words from Star Wars movies like, "That's no moon!" "A long time ago...," or "May the Force be with you!"
Place Toy Brick Star Wars toys around the party area as decorations. You can hang action figures from the ceiling with fishing line or curling ribbon.
Have guests wear Star Wars masks of wearing traditional Star Wars party hats. Let guests take home their masks as fun favors.
Set up a Toy Brickbuilding station. Hang up any creations your guests craft for added Toy Brickdecorations that your friends can be proud of.
Hang Star Wars Toy Brickbanners, posters, and stills from the Star Wars movies or cartoons around your party area.
Use Toy Brickblocks and figures to recreate some of your favorite Star Wars scenes. These block toys will look great as cake toppers or set up around your party area.
---
Star Wars Block Party Food Ideas
Serve Star Wars party food that is out of this world! In addition to classic menu options like chips and sodas, here are some creative suggestions:
Use fun Star Wars names to label ordinary party foods. Serve items like lightsaber pretzel sticks, Toy Brickcheese blocks, and Carbonite ice cream.
Set up a food bar, such as an ice cream bar. Let guests choose from dark side and light side (chocolate or vanilla) ice cream and make a treat of their own design!
Piece together small pretzel sticks and melted chocolate to make mini lightsaber snacks! Use white chocolate and mix in food dye to create different colors of lightsaber pretzels.
Create a Toy Brickpizza using square pizzas and pepperonis arranged to look like a toy brick.
Create Star Wars theme shapes out of rice cereal treats or block candy. Try your hand at crafting the Millennium Falcon or a Deathstar.
Toy Brick Cupcakes:
Impress your guests with some tasty mini cakes that look like Toy Brickbricks. Here are easy-to-follow instructions.
Bake a yellow cake in a rectangular pan.
Slice the baked cake into smaller rectangles and then arrange on a large serving platter.
Make red, blue and yellow frosting in separate bowls by tinting white frosting with 2-3 drops of food coloring.
Frost the rectangular mini cakes in the three different colors of frosting. You will have some that are red, some that are blue and some that are yellow.
Create the Toy Brickstuds on the mini cakes with marshmallows. To do this, align mini marshmallows in 2 rows of 3. If you'd like, you can use marshmallows that are already colored or dye them with food coloring.
Serve the mini cakes on the platter and enjoy!
---
Star Wars Block Party Favors
Star Wars Block Party movies and toys lend themselves well to all sorts of favors. Give your guests a treat with some of our great Star Wars favor ideas:
Star Wars Block Party toys and dolls
LEGO bricks
Jedi lightsabers and DIY swords made from pool noodle toys and duct tape
To keep things easy, check out our
complete Toy Brick Star Wars favor sets
.
---
Party Planning Toolbox
Use the links below to quickly find related theme party supplies, planning tips, printable checklists, and advice from our party planning experts!
The Star Wars name and all related characters and elements are the property of Disney. This guide is not affiliated with or endorsed by Disney or LEGO.
---
Games and Activities
| | |
| --- | --- |
| Color Your Favorite Characters! | Ask your family members to participate variations of this classic party game. |
| Everybody is a winner with these versions of Bingo! | Here are creative ways for your guests to find hidden treasures |
| Make balloon animals or swords! | Who's the fastest at your party? You'll find out! |