Disney Party
From Mickey Mouse to Lightning McQueen, Disney characters are household friends that bring laughter, love and happiness to millions of children and adults. There are so many memorable Disney characters that a favorite is probably difficult for your child to choose. So create your own Magic Kingdom and invite everyone over to celebrate your child's birthday with an entire cast of characters! Shop all our
Disney Party Themes
Browse this guide:
Disney Invitations
Disney Decorations
Disney Party Food
Disney Party Favors
Disney Games & Activities
---
Disney party supplies
, like plates, cups, napkins and decorations, you may want to consider purchasing, borrowing or renting the following items for your Disney theme:
A Disney movie or Disney songs to play quietly in the background of the party.
Disney toys, figurines and stuffed animals.
Disney costumes for children and adults
Disney movie posters
Disney Party Invitation Ideas
Invite everyone to your Magic Kingdom for a day of Disney fun. If you have the time, create your own Disney birthday invitations with one of the following magical ideas.
Use a photo of your child posed with a Disney character for the cover of the invitation. On the inside include the party details.
If you have a talented artist in the family, ask them to draw your child as a cartoon next to Disney characters. Use this as the front of the card along with the words "Join us for an animated day!"
Print the party information on a piece of 8.5 x 11" card stock so that two invites are on one page horizontally. Then cut each page in half. Use a Disney character rubber stamp and colored pencils to add images to cardstock. With the right layout, these can look very professional!
Include something Disney related with each invitation such as Disney stickers, Mickey Mouse ears or Disney figurine.
Include a cute rhyme on your Disney invitation such as:
Mickey Mouse and Cinderella; Aladdin, Simba and Pooh, Lightning McQueen, Stitch and Goofy; would like to invite you. To celebrate in Sarah's kingdom with all her Disney friends, You'll have a magical adventure before the party ends!
If you're pressed for time let Birthday in a Box personalize
Disney birthday invitations
for you.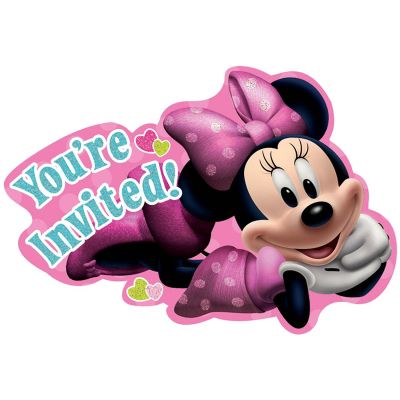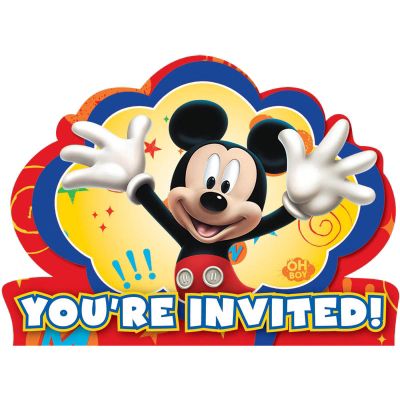 ---
---
---
---